Mixed signals in Corona times: igus turnover declines, incoming orders almost stable so far
Published on: 6th May 2020
The motion plastics solutions to improve technology and reduce costs are in demand – 100 new products at a virtual trade show stand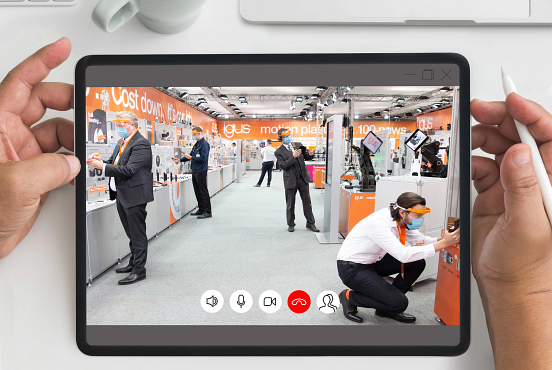 After a 2% increase in turnover last year, igus is currently registering different signals from the market. Whilst sales declined in the first four months due to the Corona situation, incoming orders have so far remained almost stable. The interest in motion plastics, which improve technology and reduce costs, is increasing markedly. So igus has set up a trade show stand where customers can discover digital innovations for themselves. The initial days have already seen much approval.
Last year igus was able to increase its turnover by 2% to 764 million euro despite a difficult economic environment. With the current Corona crisis, the general conditions have intensified further. The Cologne based company is also feeling the pinch. In the first four months of the year, sales fell by 11% compared to the same period last year. Incoming orders are almost stable and currently only at minus 2%. "We are currently receiving many enquiries and arranging numerous virtual visits", explains Frank Blase, Managing Director of igus GmbH. "The interest of customers in solutions that improve technology and thereby reduce costs is noticeably increasing. Based on more than 50 years of experience in research and practice, we are able to offer safe solutions made of plastics." An example of how this can be achieved is the modern production facility of a packaging machine manufacturer. Here two loaves of toasting bread should be sliced, packed and sealed per second. A weak point had been the moving cable for the quick assembly of the machine. In search of a solution, the company has found the chainflex service life calculator for dynamic cables on the Internet and thus the tailor-made product for its highly dynamic application, well before the present Corona situation. With the addition of an intelligent smart plastics monitoring system for this cable, it achieved its goal: the availability of the plant for 24/7 continuous operation, a predictable cable replacement every 18 months and high cost savings.
Fund-raising: headbands for face shields
Maintaining the fast and reliable supply of tribo-polymer products in the current situation is an important goal for igus. "igus is currently delivering without any restrictions", says CEO Frank Blase. "On average, small and medium-sized orders are on their way to the customer after 2.5 days." Internationally, local supply is guaranteed due to 14 production sites. In order to maintain the ability to deliver reliably, over 100 measures were implemented at the main location alone, from five new canteens up to extra allowance for production employees for difficult working conditions. Furthermore, igus produces headbands for face shields in injection moulding made from recycled iglidur A200. Thereby a cost-effective mass production is possible. The first 100,000 headbands will be available free of charge, after which they will be distributed at customer cost. A special production of 140,000 full face shields is also currently underway. With this, igus is supplying all school students in Cologne as part of a fundraising campaign for the home town.
Over 100 new products: digital visits to real trade show
Since neither trade shows nor personal visits to customers are currently possible, igus is relying entirely on the advantages of digitisation: the pivot here is the trade show stand that igus has set up as part of the digital support package for customers. The real trade show stand is virtually accessible; personal tours, individual and group discussions at the stand can also be arranged with the experts from igus straightaway. With the motto "Tech up, Cost down. It's our job." igus is presenting over 100 plastics innovations in an area of 400 square metres. One example of how customers can save costs and improve their technology is the autoglide 5 energy chain with steel cable floor guide, which can save 88% installation time in intralogistics and crane systems, with total costs including cables starting at €49 per metre. Another new feature is the drylin polymer telescopic rail, with which, among other things, drawers, seat and head adjustments can be easily made and pulled out. It is also 64% lighter than metal guides. Crucial for product development are the tests in the company's own 3,800 square metre test laboratory. These enable igus to offer a unique 36-month guarantee on the standard chain range and chainflex cables. The brand promise "igus 36-month chainflex cable guarantee and service life calculator based on 2 billion test cycles per year" has now been successfully certified by the UL testing agency. At the same time, igus is increasingly focusing on integrating its motion plastics in a circular economy. With initiatives such as "chainge recycling", "plastics2oil" and ISO 14001 certification. In the "chainge recycling" programme, igus takes back discarded plastic energy chains ("e-chains") regardless of the manufacturer, recycles them and pays a price per kilo in vouchers. €4.7 million investment in Mura Technology goes one step further. The company wants to build plants in which plastic waste is converted into oil in an energy-saving manner. The ISO 14001:25 environmental certificate was awarded to igus Germany in mid-April and to igus Korea in May. Energy saving targets of at least 10% are the next step.
Save costs, improve technology – even at igus
Even though igus is aware that planning is difficult at the moment, the company is still sticking to long-term investments, as Frank Blase emphasises: "The losses in sales and costs needed to overcome the crisis are severe. A general change for the better is currently difficult to predict. However, we have saved a large amount of equity for such exceptional periods. And we're tackling all the costs." Short-time work was announced in some countries, but not in Germany. "We want to minimise the impact on our employees as much as possible. And we must continue to make decisive investments in the future." These include, for example, the current tunnel construction and the development of the new premises for an additional new building at the Cologne location. The high level of investment in digitisation is also continuing. The company brought eight additional service life simulators and online tools to the web in 2019 alone, for example for gears, rollers and shafts, as well as the RBTX platform for low-cost robotics. In the meantime, 38 online tools can be used free of charge and without registration. Frank Blase points out: "Both sample projects, new construction and digitisation, have a common focus: the customer should get his motion plastics solutions quickly, easily and reliably. This is an important goal particularly at this time, which we repeatedly emphasise in our daily crisis meetings."