Video: Revolutionary method of chain assembly
Published on: 18th September 2019
Reduce assembly time by 40% with the new E4Q energy chain from igus, which can be opened without tools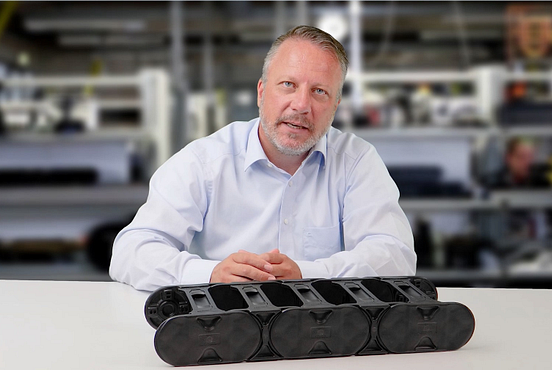 High unsupported lengths and long travels with large fill weights create extreme stress on energy chains. igus, the motion plastics specialist, has developed the E4Q energy chain series to tackle this.
Based on the robust and proven E4.1 energy chain standard, the new range brings a long service life and a high degree of modularity. The key feature is that the crossbars can be opened and closed without any tools at all. This saves the user 40% assembly time. In order to optimise the weight of the energy chain, shapes inspired by nature are used. Material has been saved wherever it can be without any loss of strength. E4Q is very quiet in operation due to its design. Optional damping elements ensure even quieter operation. In the video, head of development Andreas Hermey, Business Unit head Jörg Ottersbach and machine tool specialist Lukas Czaja describe the exciting story of the E4Q's development, demonstrate its special features and show how easy it is to fill the E4Q, with the revolutionary new method of assembling and installing energy chains.
Click on the link www.igus.eu/e4q-video to view the YouTube video.