New igus service: calculate the service life of 3D printing materials online in 30 seconds
Published on: 26th July 2023
The motion plastics specialist is expanding its 3D printing range for wear-resistant, lubrication-free special parts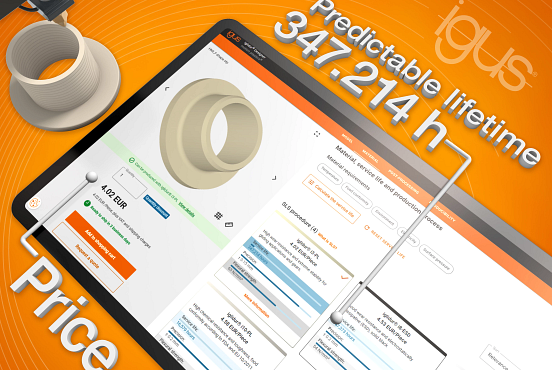 Knowing the durability of a 3D-printed component often makes it easier to choose the right material. This is why igus has now added a service to its 3D printing range. Apart from a price calculation and a feasibility analysis, the online 3D printing service can now also predict service life for individually manufactured special parts in just a few seconds. Just upload the STEP or STL file, have the service life calculated, choose the right material and order the part, and it will be shipped within three days.
igus has 30 years of plain bearing expertise, developing the right high-performance plastics and producing the bearings with injection moulding. If customer-specific wear-resistant parts are required outside of the standard range, 3D printing is used. From individual parts to small quantities, igus can print the right special parts and deliver them within three days. Here, different processes and a wide range of materials come into play: rapid tooling, for instance, combined with filament, laser sintering powder and liquid resin. It is all very simple with the online 3D printing service. Users upload the STEP or STL file for their product to the website, where the Cologne motion plastics specialist's production options, suitable materials and finishes are displayed. The tool also provides information about the costs, feasibility and delivery time. "We have now integrated the service life calculation into the 3D printing service because knowing the longevity of a component in advance in addition to price information makes it easier to choose the right material," says Tom Krause, Head of Business Unit Additive Manufacturing. But how does the calculation work? "All the users have to do is select their part's sliding surface with a mouse click and enter a few application parameters. The 3D printing service then automatically calculates a service life estimate," says Krause.
The igus laboratory: 11,000 tests at 450 test rigs
The data for all igus service life calculators are based on extensive test series in the in-house 3,800-square-metre laboratory in Cologne, where igus develops and researches new plastics and products. 11,000 abrasion tests are performed at 450 test rigs every year. The tests show that 3D-printed parts made from iglidur plain bearing plastics are in no way inferior to turned and injection-moulded parts made from conventional plastics. Service life is up to ten times as long. It is even up to 50 times as long as that of other 3D printing materials. More than 50 iglidur materials for injection moulding offer users from all industries the right solutions, in addition to four laser sintering materials, ten tribofilaments and the new iglidur i3000 3D printing resin.
To the igus 3D printing service: https://www.igus.eu/info/3d-print-3d-printing-service