Maximum safety in battery production: first certified energy chain for the dry cleanroom
Published on: 24th April 2023
Test passed with the best possible result: E6.29 from igus receives innovative dry cleanroom certificate from Fraunhofer IPA for ISO Class 4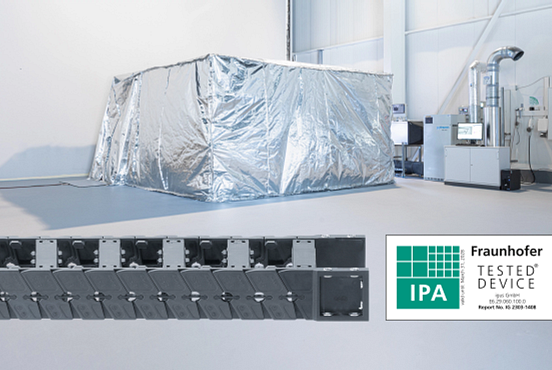 Whenever the highest hygiene standards are required, igus scores high with lubrication-free and abrasion-resistant plastic components for movement. In particular, battery production for tomorrow's mobility requires special environmental conditions, which are achieved through the combination of dry rooms and cleanrooms. The Fraunhofer IPA has developed a new type of certificate for precisely these requirements. The E6.29 energy chain from igus is the very first cable guide system that has been tested under dry cleanroom conditions and has now been certified with ISO Class 4.
Lithium-ion batteries are a key technology of our time that has undergone major advances in recent years. This is due to the fact that the market for electric cars is growing as the battery system is essential for electromobility. To ensure error-free production and long battery life, the production process must be continuously optimised. As a result of the increasing number of plants and automation of the systems, the need for reliable cable guide systems is also growing. "The quality requirements are constantly increasing – on the part of both customers and test standards. For this reason, we've been working with the Fraunhofer Institute for Manufacturing Engineering and Automation IPA since 1997, where our energy chains are examined in standardised motion sequences. This allows us to make a clear statement about the cleanliness class of our energy chains," explains Kira Weller, Product Manager for e-chains at igus. "Our E6.29 energy chain, which has been tried and tested for many years, is now the very first cable guide system ever to receive a new type of IPA certificate for the ISO cleanroom classification under dry-room conditions."
Unique combination of dryness and freedom from particles
For the test, Fraunhofer IPA developed a mobile dry cleanroom tent together with the Cellforce Group. The new DryClean-CAPE is a more flexible and cost-effective alternative to classic, stationary cleanrooms and creates not only a highly clean environment, but also a production environment with low humidity. The tent-like cleanroom system consists of two different covers. This results in dryness and freedom from particles due to separate air treatment units that are independent of one another. This unique combination provides for the optimal, flexible production environment.
E6.29 achieves the best possible test result
For this reason, the IPA has now also developed the new type of certificate for the ISO cleanroom classification under dry-room conditions. The E6.29 from igus was not only the first energy chain to pass this test, but also achieved the best possible result in the tent-like cleanroom: ISO Class 4. This makes igus one of the pioneers in this field. The e-chain was tested at a dew point of -40°C, which corresponds to a relative humidity of <1% at a room temperature of 22°C, and in an ISO Class 3 cleanroom environment. The E6.29 is therefore now also suitable for safe use in dry-room applications. The durable e-chain made of high-performance plastics with optimised friction and wear properties is available directly from stock as a standard catalogue part with various inner heights, widths and radii. An endurance test of the E6 scalable crossbars is currently also being carried out in a dry room in the in-house igus test laboratory. They have already undergone 10 million double strokes - and the tests are still going.