igus motion plastics put the classic air hockey game back in the limelight
Published on: 16th March 2023
Lubrication-free drylin linear guides and dryspin lead screws ensure precise drilling of air holes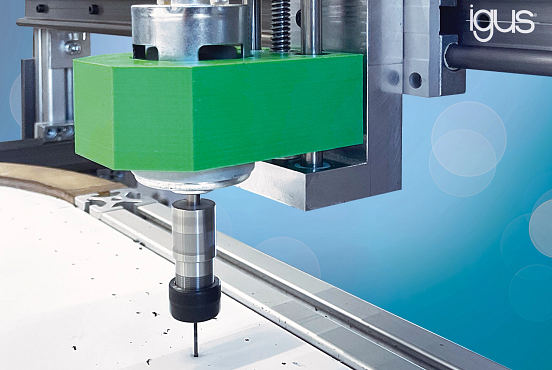 Drilling 4,540 holes with precision: the trainees at SHW-Werkzeugmaschinen were faced with this task when building an air hockey table. For the mechanism of the special drilling machine, the prospective industrial mechanics and mechatronics technicians put their complete trust in the lubrication-free motion plastics from igus. Among other things, maintenance-free dryspin lead screws and the lubrication-free drylin W linear technology from igus are used.
Air hockey is considered a classic game, especially in the US, and can be found in many arcades. The idea originated in the 1970s. Air hockey was to be made accessible to everyone. This is how the tables the size of a billiard table came into being, on which two to four players try to hit a puck into the respective opponent's goal. Air is blown through many small holes under the table, creating a cushion of air on which the puck glides very quickly with virtually no frictional losses. The trainees at SHW-Werkzeugmaschinen wanted to put a new spin on this classic game as part of the "Art meets Technology" competition. The result was a tournament-sized table with around 4,540 holes with a diameter of 1.2mm each. The table was developed, built, programmed and commissioned from scratch. The trainees made a machine just for the playing field that is controlled by a computer and drills the holes for the air ducts in a 23mm grid. In their search for the right components, they found what they were looking for at igus. "Above all, a high degree of accuracy for the holes was particularly important to us, so the drive technology had to be very precise," recalls Bernhard Müller, who supervised the student project at SHW. After an internet search and detailed consultation with igus Sales Consultant Philipp Krajewski, we decided on three drylin W rails and carriages as well as dryspin lead screws and nuts." The cost-effective and dirt-resistant components are used as x-, y- and z-axes.
Air hockey table with Young Engineers Support wins competition
The project also convinced the jury of the "Art meets Technology" competition. With their air hockey table, the trainees came in first in the Quality category. But what became of the table? "Currently, the table is available to all employees for play during break times. An in-house tournament has already been performed at our Christmas party. We also display it at training fairs," explains Bernhard Müller. The project was supported by igus as part of its Young Engineers Support. With the university initiative, igus wants to help pupils, students, trainees and lecturers with free samples and sponsorships as well as with the development of innovative projects. More information about the university support can be found at https://www.igus.eu/yes.