Easy and fast 3D printing: igus tribo-filaments available on the Ultimaker Marketplace
Published on: 19th November 2019
Material partnership makes the printing of lubrication-free and low-wear components very easy for users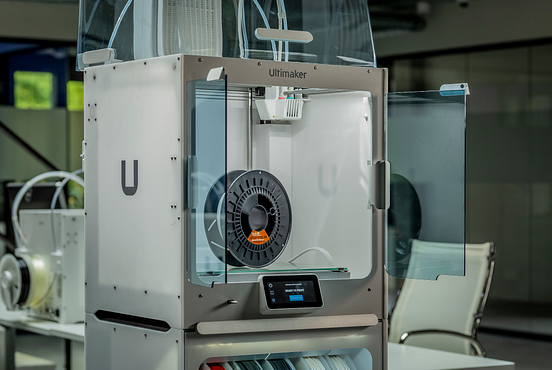 Due to the co-operation between Ultimaker and igus, the processing of the iglidur tribo-filaments in the Ultimaker 3D printers has become a lot easier. Neither special knowledge nor programming expertise is required to produce lubrication-free, low-wear components. The extensive material tests and the open source software "Cura" make this possible.
The free open source software "Cura" from Ultimaker, a leading manufacturer of 3D printers in the FFF/FDM process, makes it very easy for users to manufacture their individual components quickly. In just a few minutes, a 3D model is prepared, and after selecting speed and quality, the printing starts. With pre-configured filament profiles available from the Ultimaker Marketplace, users no longer need to enter specific parameters for their printing material, but still get the best print results at the touch of a button. These profiles are based on extensive tests of the various materials in the Ultimaker printers and include the iglidur tribo-filaments from motion plastics specialist igus, which enable users to print components specifically optimised for friction and wear, such as plain bearings, clamping devices or complex components. "The collaboration between Ultimaker and igus transforms the processing of iglidur filaments in Ultimaker 3D printers into a 'plug & play' solution", notes Tom Krause, Director of Additive Manufacturing at igus. For this, it is necessary to install the filament profiles in the Cura software, through which the CAD data is transformed into a processable 3D printing file. Experienced users can adapt the provided material profiles to their needs by changing different parameters. The Cura software also allows users to create their own material profiles.
iglidur filaments – friction-optimised polymers for 3D printing
iglidur filaments are suitable for all types of components in motion where wear and friction play a role. Tests in the 3,800 square metre igus test laboratory showed that they have up to 50 times more wear resistance than conventional 3D printing materials. The 3D print with the tribo-filaments from igus is a cost-saving alternative especially in the production of complex moving parts subject to wear in jigs and fixtures, in small batches and special machine construction. For customers who do not have their own 3D printer, igus also offers a 3D printing service for wear-resistant parts, both with iglidur tribo-filaments and with their own laser sintering materials. Customers can upload their data, choose the material, predict the service life, calculate prices and order their individual wear-resistant parts online.