Crawling through danger – robot-controlled maintenance operations with igus e-chains on board
Published on: 27th January 2022
Equipped with igus energy supply systems, the "Crawler" takes on lethal maintenance operations in pipelines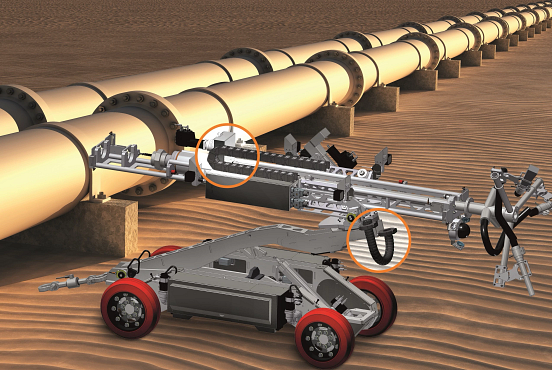 It undertakes work that is lethal for humans: the remote-controlled robot "Crawler" restores the inner walls of pipelines in power plants. An automation that needs to be regularly maintained in order to protect the power and data cables from the harsh environmental conditions. Here, the US manufacturer Remote Orbital Installations LLC relies on the collaboration with igus.
In 2007, a tragic accident at a power plant in Colorado showed just how dangerous working in pipelines can be. When workers applied an epoxy coating inside a penstock that carries water to turbines, the flammable solvent ignited. Five people lost their lives. It is a fate that Remote Orbital Installations (LLC) and Big Sky Engineering want to spare other workers. The two U.S. companies have therefore developed the Crawler – a remote controlled robotic platform on four wheels that travels through pipelines, cleans the inner walls with a blasting tool and relines them with epoxy resin. The workers remain safe at the other end of the control cable. Before the Crawler was ready to use, the engineers had to overcome various challenges. One challenge was to find components that could withstand the dirty and humid environment inside the pipeline. Failures could result in workers having to enter the pipe and exposing themselves to danger. These components included guides designed to protect the robot's power and data cables from damage due to uncontrolled movement.
"The longevity of igus products was crucial for success"
On the other side of the Atlantic, the US designers found what they were looking for at igus. The plastics motion specialist's energy chains provide guidance of energy and data cables at several points. For example, they guide the cables of the mechanism that adjusts the wheel width of the Crawler to the pipe diameter. Also cables of the boom, which is responsible for the height adjustment of the tools. And the safety of hanging cables is ensured by enclosed energy chains from the triflex series, which enables controlled, three-dimensional movements with twistable chain links. All energy chains in the Crawler are made of a wear-resistant, robust, chemical-resistant and corrosion-free high-performance plastic that can reliably withstand even the most adverse environments for years. "The longevity of igus products was crucial to the Crawler's success," confirms engineer Mike Kronz. "We've done several projects and haven't had a single failure."
Bold energy chain solutions: application for the vector award 2022
The robot Crawler is an example of an application of energy chains that is characterised by economic efficiency and the courage to be creative. igus is looking for comparable applications for the vector award 2022, a competition that honours unique energy supply solutions. A jury of experts – consisting of representatives from science, industry and the trade media – will determine the winners at the Hannover Messe 2022. The prize money for the golden vector award is 5,000 euros. The deadline for entries is February 11, 2022.