Complete chain! igus energy chain kits in the shopping cart with one click and delivered in three days
Published on: 3rd December 2020
igus now offers DIY kits consisting of energy supply system, interior separation, trough and mounting brackets for long travels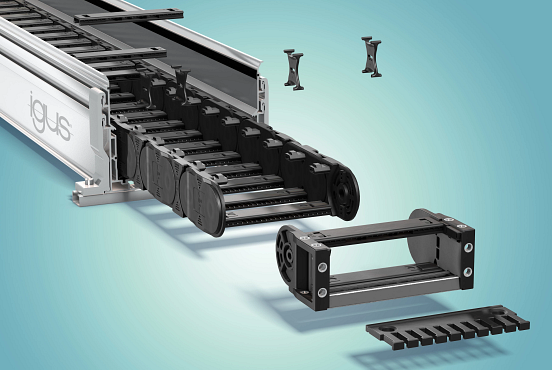 For users who want to order their energy chain quickly and easily and assemble it themselves, igus now has the solution: complete kits. The kits consist of an E4.1 series energy chain, an aluminium trough, matching separators, strain relief elements and a screwdriver. This means that the customer does not need to worry about a time-consuming configuration of the energy supply system. All adjustments to the chain are made directly on the equipment or machine. The complete kits are available in three inner heights for travels from 8 to 24 metres in the igus online shop and are available from stock.
When purchasing an energy chain, the customer usually has to go through a few steps in the ordering process to correctly compile the shopping cart for his energy supply. Often the right type of chain can be found quickly, but additional products such as a trough and the appropriate mounting brackets are usually required. "Every chain configuration, like every application, is individual, so the customer has a wide choice. The e-chain expert helps to configure and order the energy supply system", explains Jörg Ottersbach, Head of the e-chain Business Unit at igus GmbH. "However, there are also customers, for example in the area of sewage treatment plants, in sawmills or in the chemical industry, who are looking for a quick and easy complete solution", he says. Therefore, igus now offers complete kits of energy chains for travels from 8 to 24 metres directly from stock. Longer travels can be ordered with the help of the e-chain expert. The kits consist of a proven and robust E4.1 series energy chain, the appropriate mounting brackets, strain relief elements, separators, an aluminium guide trough with glide bar and one without glide bar, matching installation sets and an igus screwdriver.
 
Just one click to the complete chain
The kits are available in a total of three inner heights from 32 to 56 millimetres. The ordering process is quick and easy: in the online shop, besides the inner height of the chain, the customer only has to decide on the desired total length, the inner width and the bend radius. With one click the kit is transferred to the shopping cart. The user receives the complete kit, including clear installation instructions, within three to five days. igus also promises a guarantee of 36 months on the complete energy supply system. The customer can easily generate the certificate online using the service life calculator. When the machine and system reaches the end of their service life and the energy chain is no longer in use, igus will take it back and guarantee pure recycling. In return, the user receives a credit note based on the net weight.